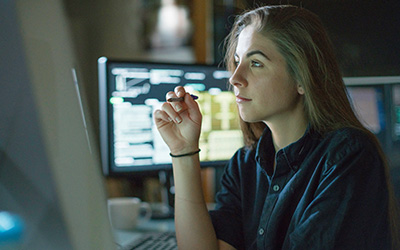 Certifications validate expertise. Throughout the history of the Global Knowledge IT Skills and Salary Report, certified IT professionals earn more, are promoted faster, and deliver higher value to their organization. The advantages of certification are consistent year to year, regardless of gender.
According to the report, women make up 16% of the tech workforce, and an even smaller percentage (8%) are at the senior or executive level. The women in those higher-level IT positions tend to hold more IT certifications and are actively pursuing more certifications compared to women in mid- or entry-level roles.
Here's an overview of the most popular and most pursued certifications by women in tech.
Most Popular Certifications Held by Women
Cybersecurity and IT compliance/audit
Over one-third of our female respondents to our IT Skills and Salary Survey works in either IT compliance, audit and/or cybersecurity. A strong focus on ISACA certifications is the likely reason why these two job functions are so popular this year. The largest discrepancy between job functions for men and women is in IT audit and compliance—20% of women work in this field compared to just nine percent of men. Cybersecurity popularity is generally the same for both men and women.
Not surprisingly, with such a high percentage of IT auditors in our respondent base, ISACA's Certified Information Systems Auditor (CISA) is the most widely-held certification by women. CISA overlaps both auditing and cybersecurity, and validates the expertise needed to keep an organization's business assets secure and available.
Learn more about ISACA's CISA certification.
The other most popular cybersecurity certifications are:
IT service management
ITIL® Foundation is the most popular certification for worldwide IT professionals. It's held by 16% of women in our IT Skills and Salary Report. Many are business analysts or business architects.
ITIL® Foundation remains the preeminent IT service management credential. It helps professionals understand the IT lifecycle and support business outcomes. It's also one of the top-paying IT certifications of 2020.
Project management
Project Management Professional (PMP)® is one of the five most popular certifications by men and women alike. Established by the Project Management Institute (PMI)®, PMP is the most important industry-recognized certification for project managers. Nearly eight percent of women surveyed are either project, product, portfolio or program managers, all of which would benefit from PMP certification.
The other most popular project management certification is:
Cloud computing
AWS Certified Solutions Architect – Associate is the most popular cloud computing certification held by women, according to our data. Only three percent of female respondents are in cloud roles, which in comparison trails other more prevalent job functions like application development, networking and IT support.
AWS Solutions Architect – Associate demonstrates the skills to design and deploy scalable systems on the AWS cloud platform. Aside from its popularity, it's also associated with the second highest salaries for IT professionals.
Learn more about AWS Certified Solutions Architect – Associate.
Other popular cloud computing certifications:
Business process
Six Sigma Green Belt is one of the most widely-held business certifications by women, especially those in compliance and auditor roles.
Six Sigma Green Belt is not IT-specific and focuses on manufacturing and producing better quality products. Achieving this certification requires two weeks of training for process improvement leaders.
Cisco
CCNA Routing and Switching is the most popular Cisco certification for both women and men. Nearly 30% of women in networking and infrastructure job roles have earned this certification.
Cisco launched its newest certification framework in February 2020 and CCNA Routing and Switching has been replaced by CCNA – Cisco Certified Network Associate. CCNA focuses on the solutions and technologies needed to implement and administer modern networking and IT infrastructure.
Learn more about the new CCNA certification.
Other popular Cisco certifications:
CCNP Routing and Switching
CCENT: Cisco Certified Entry Networking Technician
Microsoft
MCSA: Windows Server 2012 and MCSA Windows Server 2016 are the most popular Microsoft certifications for women.
Both credentials validate core Windows Server skills. Windows Server 2012 confirms abilities across multiple solutions areas, while Windows Server 2016 qualifies professionals for a position as a network or computer systems administrator, or a computer network specialist.
As of June 30, 2020, all MCSA, MCSE and MCSD certifications will be retired, including the two mentioned above. Learn more about Microsoft's certification updates.
CompTIA
After Security+, the most popular CompTIA certifications held by women are:
Citrix
Citrix has two certifications among the most popular:
Most Pursued Certifications by Women

By category, here are the IT certifications that women plan to pursue the most this year.
Cybersecurity

AWS


AWS Certified Solutions Architect – Associate
AWS Certified Developer – Associate
AWS Certified Solutions Architect – Professional

Project Management


PMP®: Project Management Professional
Certified ScrumMaster

CompTIA

ITIL

Resources: