A look at the skills expected to be most in demand for 2010
Anyone who stops learning is old, whether at twenty or eighty.
– Henry Ford
There is much to be learned from the lessons of the Great Recession. Many of these lessons are as applicable to companies as they are to the employees that work for those companies. Keeping our skills current, either through formal or informal training, is one of those lessons. With that in mind respondents to our 2010 IT Salary and Skills survey were asked to assess the skill sets they anticipate their organizations will seek to add during the year.
The top skills to be added, according to respondents, offer no real surprises but appear as a continuation of previously established trends.

More than a quarter of respondents indicated their companies and organizations would look to be adding project management skills this year. Organizations that anticipate needing project managers are more apt to report that IT projects are coming back online, see the current times as an opportunity for growth, and tend toward larger IT staffs. Key industry verticals include IT consulting and related services, defense and homeland security, health care, and aerospace.
Security, especially cyber-security, has gained significant interest recently in light of numerous attacks against company systems including the botnet discovered by Herndon, Va.-based NetWitness Corp. According to an article published by Computerworld on February 18, 2010, this attack affected at least 75,000 computers at 2,500 companies and government agencies worldwide. This skill set is in high demand in the aerospace and defense sectors.
There is also a trend toward larger firms needing security specialists, but it is not as pronounced a trend as it is for project management. Firms looking to add security are seeing projects coming online and generally view conditions as ready for growth.
Virtualization and cloud computing are being promoted as green technology, which has quite a bit of buzz around it at the moment. One-fourth of respondents indicated this is a skill they plan to pursue.
There is a significant, positive relationship between the status of IT projects and the pursuit of virtualization. Those who indicated IT projects were coming online were 20% more likely to say they would be adding virtualization. Interest is strongest with VARs and IS integrators and those in IT consulting and related services.
Three out of four respondents who thought that business analysis skills would be on the table this year reported that IT projects were coming online now and these skills would be needed to assist in steering this process as the year unfolds. This skill set is twice as likely to be found in larger departments with 250 or more IT professionals (31.1% vs. 15.7% for departments of fewer than ten employees). This knowledge domain is more apt to be needed in the pharmaceutical, biotech and consumer manufacturing arenas than it is defense or aerospace.
Other twists
Interestingly, one in five respondents reported their organizations would not be adding skills this year. Not surprisingly, this group was significantly more likely to report that IT projects have not yet begun to resume. Concurrently, they are more likely to report that business conditions are stuck in the mud and have not seen any traction so far. This scenario appears to be more likely in the Midwest and Northeast than it is in the Western and Southern regions of the US.
Looking down on the list you see business intelligence and predictive analytics. These fields gained significant attention in 2009 when IBM purchased leading analytics software provider SPSS for approximately $1.2 billion. Although only 12.5% of respondents overall reported interest in this area, the conversation changes significantly when viewed by job role. As can be seen in the accompanying chart, the importance of predictive analytics changes depending upon who you talk to. If your conversations include time with analysts and business process types, or department heads, then you may want to brush up on your knowledge of the BI and predictive analytics space.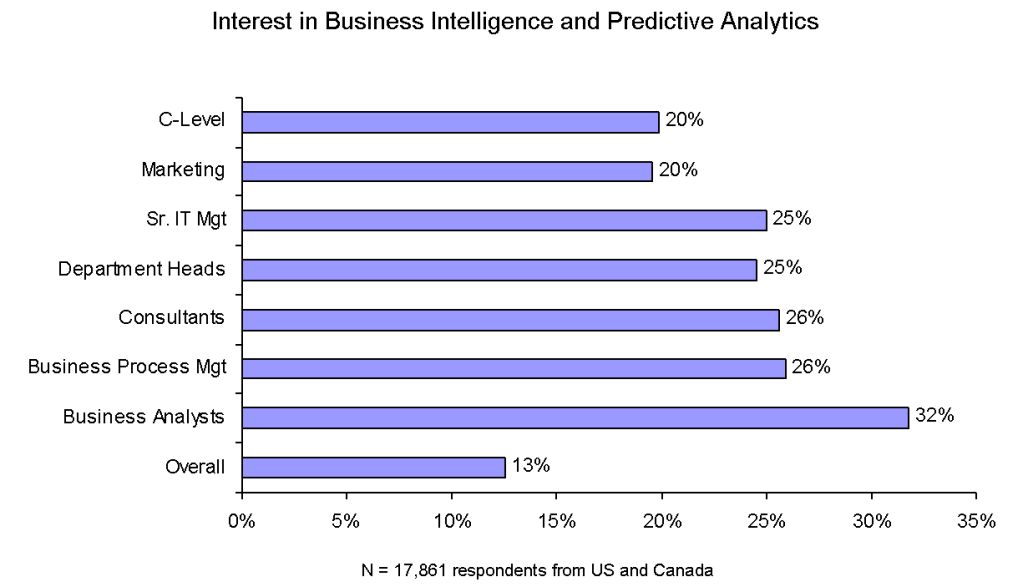 Even when the economy is going sideways, the fundamental truth to obtaining a better career position is to keep your skills sharp, even if that means studying on your own until the next opportunity for paid training comes along.
In this article