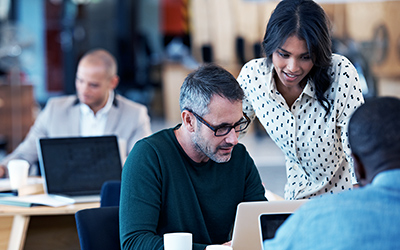 Back in the spring of 2013 when Amazon Web Services (AWS) unveiled its certification program, did anybody have any idea that AWS certifications would become so popular so quickly? Fast forward only three years and you'll notice a significant global demand represented by testing centers around the world offering the AWS exams in multiple languages and IT pros interested in how to achieve one or more AWS certifications.
Despite being fairly new to the marketplace, AWS certifications have become a featured highlight whenever IT salary reports come out. The high adoption rate of AWS cloud services by organizations around the globe has translated into some of the top salaries for those IT pros choosing to pursue AWS certifications.
Of the thousands of IT pros who participated in the Global Knowledge 2016 IT Skills and Salary Survey, nearly 400 of them said they hold an AWS certification. The average salary of an AWS-certified IT pro is $119,000 – placing it in the top five highest-paying certifications. 
The AWS role-based certification program offers candidates both associate and professional-level paths designed for developers, systems operations administrators and solutions architects.
Here are some highlights of each certification, including some things you need to know to achieve them.


AWS Certified Solutions Architect
Amazon offers both associate and professional levels of its AWS Certified Solutions Architect certifications. You must earn your associate-level certification before advancing to the professional level.
Associate Level
The average salary for those holding AWS Certified Solutions Architect – Associate Level is $123,801, a 10 percent increase from 2015. A few concepts candidates should know prior to taking the exam include:
Designing and deploying scalable, highly available systems on AWS
Selecting the correct AWS service based on requirements 
Deploying on-premises apps to AWS
Professional Level
Once you have attained the Associate certificate, IT pros should consider the Professional level as the next step. This certification brings in an average salary of $125,652 and demonstrates a seven percent increase from 2015. Candidates should have experience: 
Designing and deploying dynamically scalable and reliable applications on AWS
An ability to migrate complex multi-tier applications on AWS


AWS Certified Developer
The average salary for those holding the AWS Certified Developer – Associate certificate is $122,735. To achieve this increasingly popular certification, candidates should have:
A good grasp on choosing the right AWS services for the application
Leveraging software development kits (SDKs) to interact with services from your application
Writing code that optimizes performance
Code-level application security


AWS Certified SysOps Administrator
The average salary for those holding the AWS Certified SysOps Administrator – Associate certification is $119,143, a 10 percent increase from 2015. This certification validates technical expertise in deployment, management and operations on AWS. Candidates seeking this certification should understand concepts such as:
Implementing and controlling the flow of data to and from AWS
Migrating on-premises apps to AWS 
Identifying operational cost control mechanisms


AWS Certified DevOps Engineer 
The AWS Certified Devops Engineer is the professional-level certification to both the Developer and SysOps Administrator associate level – meaning you must hold one of those certifications prior to obtaining this one. The average salary of this newest AWS certification is $130,284. It validates technical expertise in provisioning, operating and managing distributed application systems on the AWS platform. Candidates should have a thorough understanding of concepts such as:
Implementing and managing continuous delivery systems and methodologies on AWS
Maintaining tools to automate operational processes 
Security controls and governance processes
As AWS growth continues to skyrocket, the need to validate AWS skills through certification will continue to grow and distinguish the IT pros who achieve these top-paying certifications apart from others. And like with anything else in life, learning the skills and practicing helps pave the way. AWS offers resources such as hands-on practice labs and exams prior to sitting the certification. Or there is always authorized training courses that focus on learning skills and applying them to your job and exam readiness workshops that focus on the exam itself. 


| | |
| --- | --- |
| Certification | 2016 Average Salary |
| AWS Certified Solutions Architect - Associate | $123,801 |
| AWS Certified Solutions Architect – Professional | $125,652 |
| AWS Certified Developer – Associate | $122,735 |
| AWS Certified SysOps Administrator – Associate | $119,143 |
| AWS Certified DevOps Engineer | $130,284 |